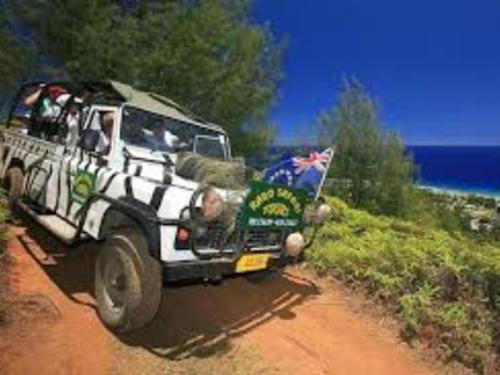 Rarotonga Tours
Excursions around the island of Rarotonga
can be booked through the Front Desk @ Sanctuary Rarotonga-on the beach, or next door through the Tour Desk @ The Rarotongan Beach Resort & Spa.
Bookings Essential
Ph +682 25-900
Raro 4WD Mountain Safari Tour
If hard trekking is not your idea of a holiday, but you're still curious to experience Rarotonga's lush rainforest interior and highlights, the 4WD Raro Mountain Safari Tour is for you.

This is Rarotonga's most popular tour for good reason. Enjoy the experienced, colourful guides as they share with you their local knowledge, good humour and 'tall tales and true'. Tours depart Monday to Friday both morning and afternoon, as well as Sunday afternoons. Morning tours include a fabulous beach BBQ lunch with refreshments.

Tours cost NZ$80 per adult and half price for children. Includes pick up and drop off next door from The Rarotongan Beach Resort & Spa's Lobby.
Saturday Market Day
Saturday is market day at the Punanga Nui Market, which is located beside Rarotonga Wharf in Avarua town.

The Punanga Nui Market is open from 6am to about 11.30am on Saturdays, but as it usually starts to wind down around 11am we recommend you get there early! The vibrant Marketplace offers a wide range of fresh local produce, fresh fruit smoothies, traditional cooked foods, kebabs, pastries, fresh baked artisan breads, waffles, coffee, drinking coconuts (called 'nu'), black pearl jewellery, art, carvings, handicrafts, T-shirts, music and pareus. Dancers and bands often perform live which adds to the great island atmosphere.

It's a wonderfully enjoyable, colourful island market atmosphere, and well worth a visit. You can catch the Cook's Island Bus to Avarua town from the Lobby next door at The Rarotongan Beach Resort & Spa.
Sunday Church Services
Each Sunday Rarotonga's beautiful, historic white coral and limestone churches fill with the soaring songs of worship of their congregations. Visitors are most welcome to attend Sunday services, but please observe appropriate modest attire of shirts and long trousers for men, and longer-length skirts or dresses for women, preferably with short or long sleeves.

A bus from The Rarotongan Beach Resort & Spa's Lobby leaves at 9.30am Sunday for the Cook Islands Christian Church and St Mary's Catholic Church, both in Arorangi. The bus fare is NZ$6 return, or NZ$4 one-way. A church donation will be much appreciated.

At the conclusion of the service you may well find yourself invited by the Pastor to enjoy island fruits and light refreshments in the nearby meeting hall with the congregation. A lovely, authentic way to mix and mingle with local Cook Islanders!
Quad and Buggy Tours
Coconut Tours offers two fantastic, exciting and exhilarating tours, the ISLAND BUGGY EXPLORER and the JUNGLE QUAD ADVENTURE.

Both tours offer the chance to experience the thrills and challenges of driving your very own Quad through our "jungle" or a Buggy to "hot spots" following the tour guide. No experience is necessary as vehicles are fully automatic and tours are guided and supervised. These exciting tours are ideal for those seeking some holiday thrills and exciement on their tropical island vacation. (Please note there is an age restriction on drivers).

Private family or group tours including wedding parties and birthday groups can be arranged and organized. Don't let anyone drive for you, DRIVE YOURSELF!
Don't miss out on this great island adventure!
NiteLife Tour
Friday is the Big Night Out on Rarotonga, so grab your ticket on the fun bus and head out on a fun NiteLife Tour to check out the island's colorful bars and hot clubs with your entertaining guide.
Your NiteLife Tour of Rarotonga includes a welcome drink, an ei (fresh flower lei garland) and finger food at your first bar stop.

A great way to meet the locals over a drink or on the dance floor! Bookings are essential.

The tour costs NZ$38pp. A great night out, and great value (this way everyone in your party can have a ball and you don't need to nominate a non-drinker!).
Captain Tama's Lagoon Cruise
One of Rarotonga's popular and enjoyable tours is Captain Tama's Lagoon Cruise by glass bottom boat. This is especially ideal for young children, older people and non-snorkelers, as it gives you the opportunity of seeing some of the lagoon life without actually having to get wet!

The Cruise also offers off-boat snorkeling, and a stop on one of the islets in Muri Lagoon for a fresh-fish beach BBQ lunch and refreshments. Captain Tama's Lagoon Cruise operates Monday to Saturday, 11am to 3.30pm.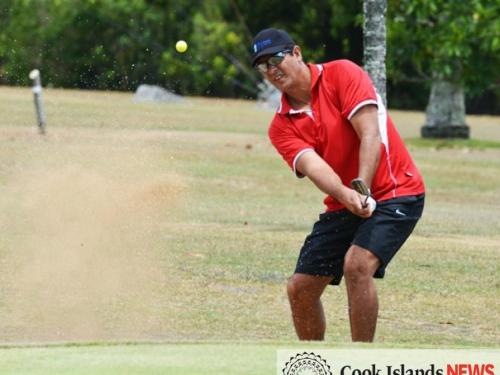 Rarotonga Golf Club
The Rarotonga Golf Club welcomes visitors to play on its 9-hole course. The green fee costs NZ$20 and you can play the course twice. You can also hire a set of clubs for a further NZ$25. The golf course is open weekdays from 8am to 2pm and also features a 19th hole (the all important club bar!).

Saturday is for members only and the course and club are closed on Sundays. The Rarotonga Golf Club is approximately 10 minutes from Sanctuary Rarotonga-on the beach by car.
Diving
Rarotonga's clear, warm waters with fantastic visibility and diversity of marine life make it excellent for diving and snorkeling. If you've never dived there are qualified instructors at several different dive operations around the island who can give expert tuition, and Rarotonga's lagoons are a great place to learn (sure beats your local city swimming pool!).

Outside the reef there's a diverse range of diving including interesting drop-offs, a variety of hard corals, rays, sharks, turtles, whales, canyons, caves, tunnels ands shipwrecks. The reef drop-off goes from about 20-30 metres down to 4000 metres. Most diving is done at 5 to 40m where visibility is 20 to 60m (100 feet), depending on weather and wind conditions. Usual water temperatures range between 25-28 degrees Celsius. Another welcome feature of diving off Rarotonga are the short trips in purpose-built boats, often no more than 10 minutes to superb dive sites, and as the island of Rarotonga is circular there are almost always safe spots for diving with good visibility.
Our Tour Desk would be pleased to assist you with your bookings for dive trips and excursions.
Game Fishing
Marlin, Wahoo, Mahimahi (Dolphin Fish), Barracuda, Sailfish, Shark and Tuna such as Yellowfin, Albacore, Dogtooth, Skipjack and Big Eye are just a few of the exciting game fish that you have the opportunity to catch while fishing in the Cook Islands. Rarotonga's waters are amongst the richest in the world and offer exceptional deep-sea game fishing, saltwater fly and light tackle sports fishing. Due to the close proximity of the reef, there are no long journeys out to deep water, and lines are set once out of the harbour ensuring maximum fishing time. Most trips are half day with prices starting from as low as NZ$80 on a boat share with 4-6 lines, and private charters can be arranged.

Catches usually remain with the boat although some companies do share it out and provide enough for dinner if the catch is sufficient. Morning trips go out at about 8am and afternoon trips at about 1.30pm.
Scenic Flights
Scenic flights are a great opportunity to see Rarotonga's mountain trails and diving spots from the skies as well as a stunning view of the whole island and its majestic mountain peaks and verdant coastal plains. A 20 minute flight costs NZ$75 per adult and NZ$57 per child (11yrs and under). The minimum number of people required for the trip is 2, and the maximum allowed is 3. Flights operate daily between 9am and 2pm.
Exploring
Captain Tama's Lagoon Cruize – Operates Monday to Saturday, 11am to 3.30pm. Captain Tama's Lagoon Cruize takes you out onto Muri Lagoon in a glass bottom cruiser, and you can snorkel over the side of the boat. Beach BBQ lunch and refreshments are provided. The glass bottom provides the very young or those unable to snorkel with good views of reef fish.

Circle Island Tour – a great way to orientate yourself around the island and learn about Cook Islands history and culture. The tour includes a light lunch, coconut demonstration, and a short shopping break. Cost is NZ$45 per person.
Shopping
Rarotonga is the capital of the Cook Islands, and the main township on Rarotonga is Avarua. Avarua offers such essential services as the Post Office, banks (ANZ, Westpac, Western Union and the Bank of the Cook Islands (BCI)), pharmacies, the Police Station (for your NZ$20 Cook Islands Driver's License or your scooter license), supermarkets, Punanga Nui Market for local produce and crafts, a department store, shops, cafes, bars and restaurants.

There is an ATM machine located at sister resort The Rarotongan Beach Resort & Spa for your convenience.

On Rarotonga, business hours are Monday to Friday from 8am to 4pm, and Saturday from around 8am til 12noon. Please note that banks close at 3pm. Westpac is the only bank that opens on Saturday mornings from 9am to 12noon for teller services only.

Supermarkets are open to 4pm on Saturdays, small local grocery stores keep longer hours, usually from around 7am to approx 9pm, the Six/Eleven stores around the island are open 6am to 11pm daily, and there are also two 24/7 hour stores (one in Nikao and one in Matavera).

Saturday is market day at the Punanga Nui Market (beside Rarotonga Wharf) which is open from 6am to about 11.30am or so (but usually starts to wind down around 11am - we recommend you get there early!) The market offers a wide range of fresh local produce, cooked food & treats, drinking coconuts, arts, jewellery, carvings, handicrafts, T-shirts and pareus, and bands often perform live.

Almost all facilities are closed on Sundays for religious observance, or operate on restricted hours; however the Treasure Chest, Raro Style Gift Shop and Wine Box and Island Deli at The Rarotongan are open throughout the weekend.
Click here to download our Guest Compendium